GIALLO SIENA NUVOLATO ETRUSCO MARBLE
TRADITIONAL NAME
GIALLO SIENA NUVOLATO ETRUSCO
OTHER COMMERCIAL NAMES
BLUE DORATO, BREDDOLATO
PLACE OF ORIGIN
SOVICILLE (SIENA)
PETROGRAPHIC NAME (ACCORDING TO EN 12407)
MARBLE
COLOUR
GOLDEN YELLOW WITH BLUE-GREY VEINS
MACROSCOPIC DESCRIPTION
A FINE-GRAINED METAMORPHIC LITHOTYPE RESEMBLING A BRECCIA THAT IS PEARL GREY IN COLOUR. THE MATERIAL FEATURES VEINS RANGING FROM MM TO CM IN SIZE THAT ARE VARYING SHADES OF OCHRE YELLOW WITH CONCENTRATIONS OF LIMONITE OXIDES IN PLACES ALONG THE FRACTURES THAT ARE ALSO OPEN IN PLACES.
BLOCK AND SLAB CHARACTERISTICS
AVERAGE SIZE OF BLOCKS: 3,00 X 1,60 X 1,60 M. SLABS ARE PREFERABLY CUT ALONG THE GRAIN AND AGAINST THE GRAIN, I.E. THE HARD WAY. BEFORE SAWING IT IS RECOMMENDED THAT THE BLOCKS UNDERGO RESIN TREATMENT IN A VACUUM. AFTER THIS THE SLABS CAN BE CUT AT A MINIMUM THICKNESS OF 10 MM.
PHYSICAL MECHANICAL CHARACTERISTCS
STANDARD
U.M.
MEAN VALUE
ST. DEV.
EN 13755-08
WATER ABSORPTION AT ATMOSPHERIC PRESSURE
%
0,18
0,02
EN 1936-07
APPARENT DENSITY
KG/M3
2700
5,5
EN 1936-07
OPEN POROSITY
%
0,47
0,05
EN 12372-07
FLEXURAL STRENGTH IN NATURAL CONDITIONS

MPA
16,9
3,3
EN 12371-03
FLEXURAL STRENGTH EXPOSED TO 48 FROST CYCLES
MPA
13,5
2,3
EN 1926-07
UNIAXIAL COMPRESSIVE STRENGTH
MPA
82,6
18,8
EN 14231-04
SLIP RESISTANCE (HONED FINISHING):
(DRY)
(WET)


USRV
USRV

48
14

3
1
TYPE OF FINISHING GIALLO SIENA NUVOLATO ETRUSCO MARBLE
| | |
| --- | --- |
| ANTIQUED FINISH | YES |
| SAW FINISH | YES |
| DIAMOND SAW FINISH | YES |
| ROCK FACE FINISH | |
| RIVEN CUT FINISH | YES |
| BUSHAMMERED FINISH | YES |
| MACHINE-TOOLED FINISH | YES |
| SCRATCHED FINISH | YES |
| ABRASIVE FINISH | YES |
| MATT FINISH | YES |
| HONED FINISH | YES |
| POLISHED FINISH | YES |
| POINT FINISH | YES |
| RESINED FINISH | YES |
| SANDBLASTED FINISH | YES |
| CHISELLED FINISH | YES |
| POINTED FINISH | YES |
| AXED FINISH | YES |
| REEDED | YES |
| WAXED FINISH | YES |
| WATERJET FINISH | YES |
| | |
MICROSCOPIC DESCRIPTION (ACCORDING TO EN 12407 AND EN 12670)
A CALCITIC CRYSTALLOBLASTIC LITHOTYPE THAT IS HETEROGENEOUS DUE TO THE PRESENCE OF CALCITIC DOMINIONS COMPOSED OF CRYSTALS OF DIFFERENT SIZES THAT ARE SUBHEDRAL WITH MAINLY CURVED GRAIN BOUNDARIES. THE CALCITE IS IN BLASTS OF A MAXIMUM SIZE OF 0,6MM. THE VEINS OF CALCITIC MICROCRYSTALS ARE
PARTICULARLY CONVOLUTED AND DEFORMED, ALTERNATING WITH SLENDER LAYERS COMPOSED OF COARSER BLASTS. WHERE THE VEINS ARE LOCATED, THERE ARE TWINNED FELDSPARS-ALBITE AND NEW FORMATION QUARTZ THAT ARE ISOORIENTED AND OPAQUE MINERALS THAT ARE WIDESPREAD IN PLACES AS MICROGRANULATIONS TOO.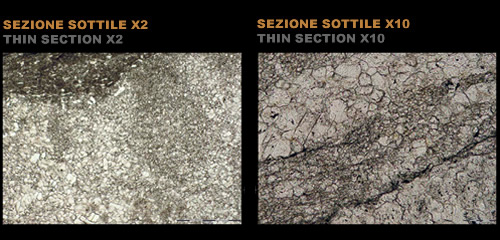 THE REFERENCE SAMPLE DOES NOT IMPLY STRICT UNIFORMITY BETWEEN THE SAMPLE ITSELF AND THE ACTUAL MATERIAL; NATURAL VARIATIONS MAY ALWAYS OCCUR. ALTHOUGH ALL EFFORTS HAVE BEEN MADE TO REPRODUCE THE EXACT LIKENESS OF THE
MATERIALS, THERE MAY BE SLIGHT DIFFERENCES DUE TO THE PRINTING PROCESS. THE TECHNICAL INFORMATION FOR THE MATERIALS IS BASED ON TESTS CARRIED OUT AT THE MARBLE LABORATORY OF THE POLITECNICO DI TORINO DIPARTIMENTO DI INGEGNERIA DEL TERRITORIO, DELL'AMBIENTE E DELLE GEOTECNOLOGIE AND PROVIDES A REFERENCE FOR THEIR CHARACTERISTICS. NATURAL STONE MATERIALS ARE HOWEVER NATURAL PRODUCTS AND AS SUCH ARE SUBJECT TO VARIATIONS. HENCE IT IS GOOD PRACTICE TO TEST THE MATERIALS EACH TIME THEIR SPECIFIC PHYSICAL-MECHANICAL PROPERTIES ARE REQUIRED.